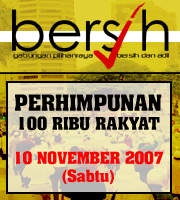 honestly, i'm wondering on what should i post for today since i still in the disaster mode of yesterday~ yup, it is not something that you can easily forget and live a HAPPY-HAPPY normal life. huh, no worry i'll not let it haunt myself for a long time. dears, THANKS for all the courage and motivations! yup, i'm back smiling and laughing today~ =)
now, continue with the blank mind of mine. HAHA..so this idea is coming from the YouTube vid that was posted in the FB. actually i don't give a
dem
about this political issue as I DON'T INTERESTED in it at all! hemmm...but for sure i wanna live in a peaceful country
lah~
huhu..
lalallala
...i don't want to add anything else because i wanna make my blog here as CLEAN as i can. so, NO POLITICAL issue here ok!! thus, just watch this VID and judge it by yourself~ =)
when i watched this, i was like OMG...it is here in our beloved MALAYSIA?! (T____T) can i say this brings tears in my eyes~ huhu..sorry i knew i'm being toooo emotional....
we always say that we are ONE Malaysia! so, guys we should appreciate the peaceful & harmony life that we've achieved here, DON'T LOOSE IT!