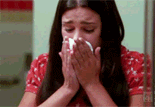 this 'ugly' gif image here is exactly the look when i cry and then i'll try to recover it back! HUH..I don't know how to begin but the main reason of this post is i just wanna say today is my BAD BAD day which i feel so down and I FEEL SOOOOOOOOOOooooo USELESS!
(although i've felt this for this whole 3 months~)
can i say that i'm stupid?! no i'd not say it as i was not just stupid but i was also DUMB! (T___T) i always trying so hard to be the best but it always ended up on the opposite way. i just can considered myself as the UNLUCKY one...and this is all stupid!
i don't know why but all the things that i'm working on is not going according to the plan. yup, no worry i'm still a Muslim who believe in Qada' and Qadar. but i just don't get it! =P
ok, let me story it bit here. as you know i'm doing my internship right now which will be end on this coming Friday~ and you have to know that i've been posted to the field that is totally different from my studies. so that, at the beginning of this industrial training, i've seek a consultation with the PIC of this program as well as the lecturers and lots of other people who are responsible for this program about " should i continue with this place or go and find another related-field company?" as for you concern, i'm myself was really stress at that time and i wanna go to the related one because i LOVE the things that i studied!
then, for the GOD sake, everyone is saying that "its ok, you just continue with it, its not a problem at all" THAT IS ALL SHEEEEEEEEEEEEEEEEETTTTTTTTTTTTTTT!!! (
sorry, im totally mad about this as they were all too lazy to settle it with me, so they just blankly agree~ so i'd not distracted them with my problem here...BONGOK!
)
hey ppl, now i wanna say that if that was really you guys's instinct, its totally rubbish coz i'm a grown up matured lady and i know how to work it by myself and i'll not bother you with my own prob
lah
! AArghhhhhhhhhhhhhhhhhhhhhhhhhh...lets FORGET about this sheeeeeeeeeeeeeettt as i already feel better now and i already stop crying, so DON'T MAKE ME CRY AGAIN! ("<.>)
huh..mata dah saket dah~
THE MORAL OF THE STORY is...SUZAI, when you feel something is wrong, then just FOLLOW WHAT YOUR HEART is saying although ppl are objecting it! (
from now on, i have to keep this to myself and apply it whenever it is hard for me to decide a decision
)
so, then i should go coz i HATE this place and i HATE myself!
OH, thanks dude! =P