huhu...i don't wanna say that i'm dissapointed of the result coz i know that they had tried their BEST althought IT IS NOT THE BEST..huhu c'mon we still put lots of hopes on you guys! =(
haiyooo..mahu buat macam mana maa..sudah KALAH lor~
(i hate to say that word!)
honestly, harapan masih ada ketika itu jaringan 1-0 yarr...tatapi sudah nyata kita tidak mampu memasukkan 2 gol lagi dalam masa 10 minit yang tinggal yang dimana nampaknya itu singa yang controlled the whole game from the beginning till the end~ WAAArrrghhhhhhhhhhhhhhh sy sangat sangat sedih!! yup, i was already gave up during that 'last minute' moment...............
takkan lah sebab kt kecik-kecik comel-comel, kt kalah kalau camtu memang sampai bila-bila lah kt akan kalah yerr..so, we need to find the way and do lot and lot more works. hemm......SAYA TAK BOLE CAKAP LEBIH kerana saya TIDAK BERMAIN BOLA SEPAK dan saya TIDAK TAHU RULES pon! so, lets leave it to Rajagopal....hoho
anyhow, WHY PLAY DIRTY GAMES..WHY SHOULD ALL THE DAMN DITRY TRICKS bothering the games lol~ main secara normal dah lar..sikit jatuh sikit angkat stretcher...alemak x macho lansung! dah lar BONCIT...menyampah gilerr haku mangkuk-mangkuk itu! *oppss..sorry for the emotional part here*
lastly, saya masih menyayangi mamat ini kerana dia memang hebat --->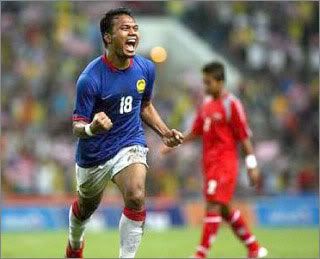 HAHAHHAHAHA...to be truth, selama ini saya MENYAMPAH betol larr tengok muka poyo mamat ni, then, semua orang pon heboh lah nak kat dia kan..sampai gf pon dah risau terus kata "Bang, jom kt tunang lah!"
hahahhahaa..then, today I HAVE TO ADMIT THAT.....
FAHMI CHE MAT, i'm so sorry for being disrespectful on you and now i have to acclaimed that..
YOU ARE THE BEST BEST GK!
YOU HAD SAVED THE bad DAY from being worst
YOU ARE THE HERO bro!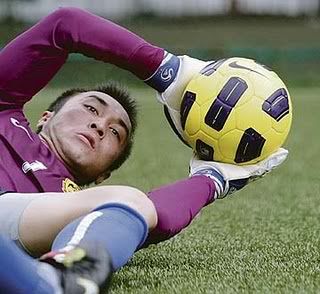 haha....eh, abang tangkap bola dapat aweks plak! =D haha...Oppss, he is someone's LOL~
end with
"Aidil ni hensem sangat lah, tak yah main bola r..." ("^___^)