MTV World Stage 2011
Date: 24 July 2011 (Sunday)
Time: Doors open at 4.30 pm
Venue: i-City, Shah Alam
Wwaaaaaahhh...do i look toooo DESPERATE right now as i re-posting about this MTV WORLD STAGE 2011 twice! huh, i don't care about it because yeahhhhh...I AM! call me desperate concert-goer, desperate freebies-hunter or desperate housewife!! ("^.^) i don't care till the time i get the free passes, i'll keep bothering you with it. (
my previous post about this super rocks concert CLICK HERE
)
HAHA...so, lets talk about this so-purple-look here~ ^^
guys, you have to know that
Celcom Xpax
is one of the proud SPONSOR of this big rocks outdoor concert that will be held on this coming 24th July 2011. yup, the bigger the BETTER, now that the Celcom Xpax is collaborating with the biggest online ads, our Nuffnang in their Evangelist Program. huhu..if you don't understand of this whole Nuffnang 'things', no worry, go and visit this
CLICK HERE
nevertheless, proudly to say that i am now the part of
Xpax ANGELS
who will be the first to get the updates about product launches, events, freebies, promotion and lots more, along with other community events exclusive ONLY TO THE Xpax ANGELS. envy me?! huuhuu..don't have to be LOL~ now, click this
to join
us!
now, the reason of this whole post is that Xpax is generously giving away 25 PAIRS OF PASSES to this so-called promising-to-be-an-epic concert ever! omg, how can i miss it because i know you guys is receiving one pair for me right?! HEHE.. now check this out on why i deserve to get the passes~
here is my TOP PICK which is this world's most well-know rock band, 30 Second To Mars! their name is as big as MARS (aikk..i do LOVE all the things from Mars LOL~ HAHA ) =D and their songs are all great. be it "The Kill" , "A Beautiful Lie", "Kings and Queens" or my most FAV ever "Closer To The Edge".
why "Closer To The Edge"?! prominently, for me it is the BEST song to be play LIVE and surely will be the BEST head-banging moment for all the fans. no, i don't regret singing it to you guys as the lyrics clearly say it out that..
no no no no
i will never forget
no no
i will never regret
no no
i will live my life
no no no no
i will never forget
no no
i will never regret
no no
i will live my life
HAHA..this is my FAV verse in the whole song since it is already feel like you are in the concert or 30 seconds to mars and making you go head-banging together with the rhythm eventhough you are just alone with your lappy in the room!! don't believe me, do please PLAY this and ready to be one of their fans! =)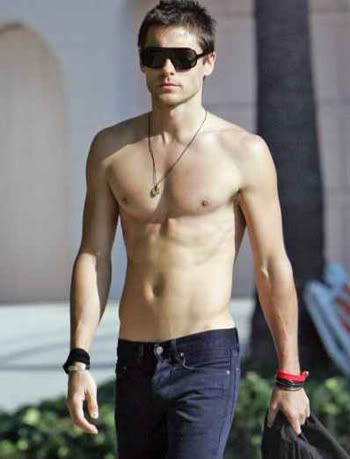 oh, sorry i couldn't find any pic BETTER than this~ *faint*
Oh MY GOSH, dear JARED L
ETO please know that i'm doing all this because of you! haha..can he be one of the REASON tooooooooooooooo~ ("^____________^)
ok, guys i guess this is more than enough! hehe..hopefully i'm qualify to get on of the 25 pairs LOL~ lastly, thanks for this opportunity and again proudly to say that readers, don't forget to visit here
if you wanna be like me THE Xpax ANGELS!!! =)